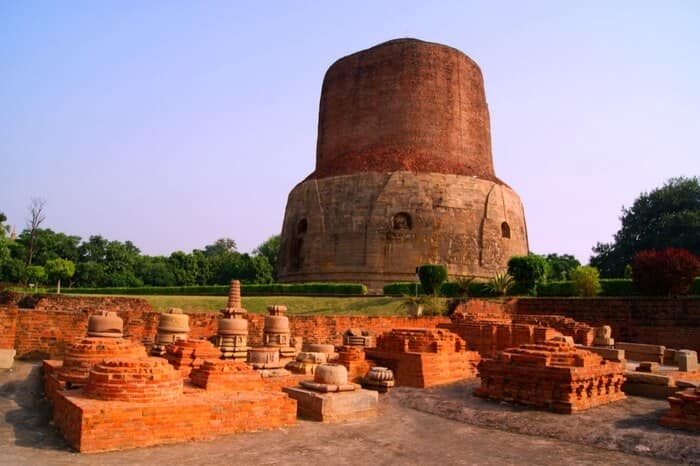 Classic Varanasi Tour
(Varanasi Tours)
Duration: 2 Days
Destinations Covered: Varanasi - Sarnath
INQUIRE NOW FOR BEST DEALS
Overview
This tour package is a perfect selection of Varanasi tours for those individuals who wish to explore Varanasi in two days with one night. It is designed in such a way that it covers most of the touristic and non-touristic (our specialty) activities Varanasi has got to provide together with dawn and sunset boat rides, temples visit, ashram visits and Sarnath tour. It also included exploring hidden alleys and thousands years old building of Varanasi by walking through and vising into it.
Trip Highlights
Guided visit to Sarnath - A place where Lord Budhha delivered his first sermon
Guided visit to cremation ground followed by witnessing aarti ceremony with a private boat
Guided walking tour into old lanes of Varanasi
Guided sunrise boat ride with a private boat
Visit to an Ashram or Muth
Itinerary Details
expand_more Day 01: Varanasi arrival + Sarnath tour + Evening aarti with private boat

After you arrive in Varanasi airport/railway station and head towards exit Gate, you will see your guide having your name on a page. He will take you to your booked hotel and will remain with you until your fly back to your destination.

Your sightseeing on this day will start with Sarnath tour in afternoon. Sarnath in Varanasi, is the place where Buddha chose to deliver his first sermon. It makes Sarnath one of the most venerated Buddhist places. Besides Buddhism, Sarnath is also connected with Jainism.
In Sarnath you will see deer park, Budhha Temple, Archaeological Museum [Closed on Fridays] and Sarnath Ruins.

Later in the evening visit to Ghat to witness aarti ceremony followed by visit to cremation ground : Aarti, also spelled arati, is a Hindu ritual, in which light is offered to one or more deities. Aartis also refer to the songs sung in praise of the deity, when offering of lamps is being offered. After this you will visit to cremation Ground and see the burning of dead bodies. Your guide will explain about the logic behind burning of dead bodies.

Later after this return back to Hotel and stay overnight.


expand_more Day 02: Sunrise boat ride + Walking tour + Departure transfer to railway station or airport

Start your day with sunrise boat ride. Varanasi boat ride at the time of sunrise from Dashashwamedh Ghat to Manikarnika Ghat is the most resplendent ride that takes you across heritage of Varanasi. This ride starts when the sun is just about to come up the horizon. As you glide across waters you can see entire river being engulfed in orange and red hues of the early morning Sun. On alighting at the burning Ghat you can see various cremation rituals. You can also witness people offering Tarpan to their ancestors.

Later after this step into thousands years old lanes to explore it. A guided walk in Varanasi old streets and through thousands years old alleys, holy temples will leave you mesmerized. A walk which promises surprise at every step is extremely rich in its insights and sights.

This Varanasi walk takes place in Northern part of the Ghats, and will give real insights of Varanasi. With this walking tour one would be able to see Kashi Vishwanasth Temple [From outside], Famous Food Streets of Varanasi, Kachuri Gali, Perfume Market, Flower market, Silk Market, Souvenirs Market and many countless things.

Later after this return back to Hotel and have breakfast.

At an ideal time, you will be picked-up from Hotel and will be transferred to airport or railway station in order to proceed your next destination.