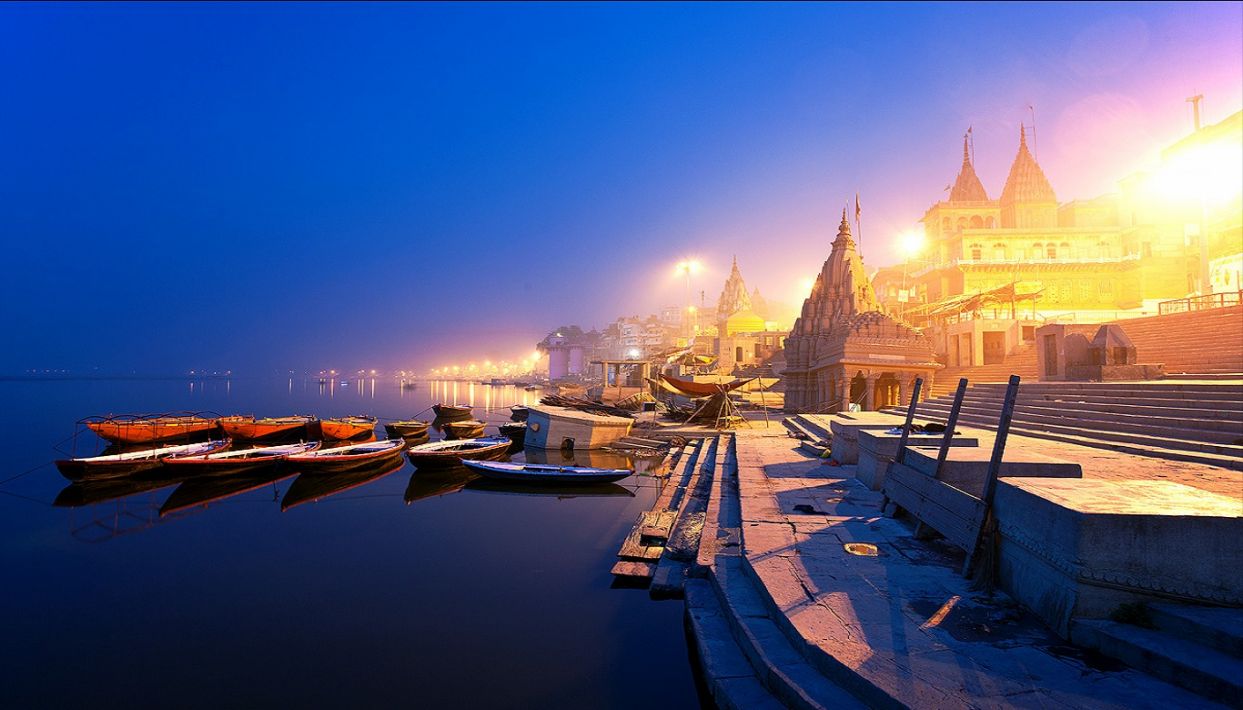 Unique Varanasi Tours
(Varanasi Tours)
Duration: 3 Days
Destinations Covered: Varanasi
INQUIRE NOW FOR BEST DEALS
Overview
Varanasi is considered one of India's holiest cities. This three-day tour showcases the top attractions of this destination, including the Ganga Ghats, where pilgrims flock for religious ceremony, as well as Hindu temples, Buddhist landmarks and much more. This tour offers the perfect city overview and is perfect for first time visitors who want to see the city like a local.
Trip Highlights
3-Day Varanasi Exclusive Tour
See top Hindu and Buddhist landmarks
Travel like a local with your friendly guide
Itinerary Details
expand_more Day 01: Aarti

Be picked-up at the airport or railway station and check in to hotel. In the evening, experience the Hindu ritual Aarti. Aartis also refer to the songs sung in praise of the deity, when offering of lamps is being offered. Hindus in India worship the river Ganges as goddess. Every evening in Varanasi, aarti is performed at the Dashashwamedh ghat. We can watch it from the Ghat or from the waterside in a boat. It is a beautiful, resonant, and majestic spectacle with a very precise choreography involving rituals performed by several priests with the sound of bells, drums, cymbals, and Sanskrit mantras.

expand_more Day 02: Morning Boat Ride

Start your next day with a morning boat ride at the dawn. Boating in the Ganges at the sunrise in Varanasi is one of the main attractions. Observe Hindu's way of life on the bank of the river Ganges. There are number of temples on the bank of the Ganges River in Varanasi. It is at the Ganga Ghats [Banaras Ghat] where you can see life and death together. There are numbers of Ghat alongside Ganges river in Varanasi where you can see Hindu cremation as well. Some of the prominent and popular Ghats at Varanasi are the Dasaswamedh Ghat, Manikarnika Ghat, Harischandra Ghat, Assi Ghat,Shivala Ghat, Man Mandir Ghat, Darbhanga Ghat, Ahilyabai Ghat and Kedar Ghat. After the boat ride take a small walk in to the oldest part of Varanasi, famous for its narrow street. Visit Kashi Vishwnath Temple area, also known as the Golden Temple. (The temple itself is open to Hindu only)

After breakfast, drive to Sarnath, approximately 10km (6.2ml) from Varanasi City. Varanasi is where the Buddha chose to deliver his first sermon in a Deer Park. It makes Sarnath one of the most venerated Buddhist places. Besides Buddhism, Sarnath is also connected with Jainism. There are many Buddhist monuments and edifices at Sarnath.

The main attractions of Sarnath are Archaeological and Excavation Area (Sarnath, Deer park), Chaukhandi Stupa, Dhammek Stupa (Dhamekha Stupa), Dharmarajika Stupa, Mulagandhakuti Vihara, Ashoka Pillar (Ashokan Lion Pillar), Ashokan Lion-Capital (the national emblem of India) and the Archeological Museum.

expand_more Day 03: City Tour

After breakfast, drive to Banaras Hinu University, and visit the Indian art museum Bharat Kala Bhawan and New Kashi Vishwnath Temple. Other important points to see in city include the Durga Temple (monkey temple), Tulasi Manas Temple, Bharat Mata Temple (Mother India Temple).