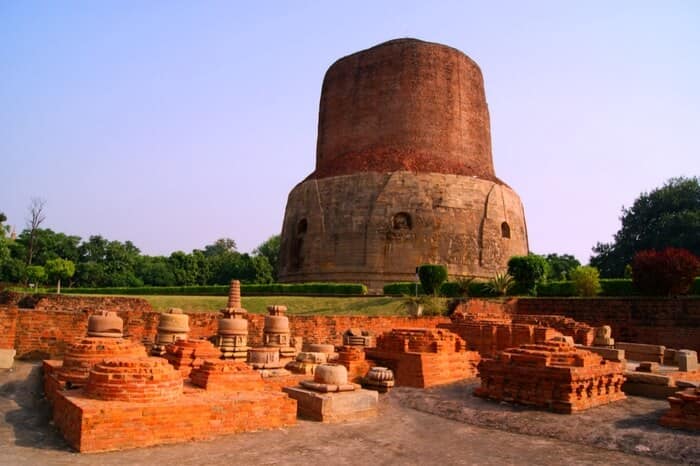 The Buddha's Trail
(Buddhist Circuit Tours)
Duration: 08 Nights / 09 Days
Destinations Covered: Delhi- Lucknow- Sravasti- Lumbini- Kushinagar-Vaishali- Patna- Rajgir- Nalanda- Bodhgaya- Varanasi
INQUIRE NOW FOR BEST DEALS
Trip Highlights
Buddhist spots like Sarnath,Lumbini, Kushinagar and Bodh Gaya
Nalanda University which is the oldest university in the world
Itinerary Details
expand_more Day 01: You land Delhi

As you land Delhi a company representative from our end will receive you airport leading to the hotel for an overnight stay.



expand_more Day 02: Move from Delhi to Lucknow via the Shatabdi Express Train and from there to Sravasti

It's a total journey of 4 hours covering 140 kms. After the early morning breakfast reach the railway station and get on to the Lucknow train. Upon reaching Lucknow make a move to Sravasti and explore the Sahet and Mahet. Back in past this used to be a proactive Buddhist hub and also the capital city for Kosala Kingdom. Another place of interest to visit is Jetvana Viharhas, where Buddha took refuge for almost twenty-four years. This place boasts of ancient stupas, popular Anand Bodhi trees, quaint monasteries as well as many temples.On this day you spend the night at Sravasti.



expand_more Day 03: Visit Lumbini and Kapilvastu from Sravasti

A total journey of 7 hours covering a distance of 225kms, it takes off post your breakfast, where you drive down to Lumbini visiting Kapilvastu on the way. At Lumbini you complete your hotel check-in formalities and start the day's sightseeing. This place is popular as Buddha was born here. You start sightseeing by visiting Maya Devi Temple, dedicated to Buddha's mother. This temple got constructed in 2nd century B.C that has a river near, where Maya Devi took her bath. The reputed Japanese Buddhist Federations have decided to rebuild this temple. The other prominent attraction is the Asoka Pillar that got established in 250 B.C constructed by Asoka. The king was a disciple of Buddhism. When this pillar was getting constructed Asoka did not accept tax from the villagers. In addition to that, the king had distributed hundred golden coins amidst them. A sudden lightning that occurred in 7th century made the pillar break in two pieces. Furthermore, this grand site went into oblivion as the dense forest around completely covered it until1895 when it was rediscovered. Post that, the site was rearranged and cleared properly and the pillar was reconstructed, as this place exudes Buddhist significance. You stay overnight in the hotel at Lumbini.



expand_more Day 04: Depart from Lumbini and move towards Kushinagar

You start this journey of 180 kms after the breakfast from Lumbini and reach Kushinagar in 6 hours. This place has immense importance, as it records Buddha's Mahaparinirvana, which means his leaving earth finally. There are several historical temples and monasteries here for you to visit. A popular site is the cremation ground of Buddha, Rambhar Stupa. History narrates that Mahakashyapa in the past at Mukutabandha Vihara had lit the holy funeral pyre. Recently, all that remains of this great site is a big mound of brick that is 15 meters high having a park within. Whilst wrapping up stop over at the Mahaparinirvana Temple and then return to your hotel at Kushinagar to stay overnight.



expand_more Day 05: Travel from Kushinahar to Patna and Vaishali in 7 hours

As you are done with your breakfast you head towards Patna and explore Vaishali along the way! Vaishali was frequently visited by Buddha during his lifetime. Furthermore, at Kolhua located nearby Buddha taught his final lecture. Celebrating this event King Asoka created the famous lion pillar in 3rd century B.C. And after about a century of Buddha's Mahaparinirvana, this place i.e. Vaishali had experienced the hosting of the second Buddhist council where two stupas got created in this honour. You spend the night at your hotel in Patna.



expand_more Day 06: You travel from Patna to Rajgir, Bodh Gaya and Nalanda

This is a journey of 200kms and you complete this in 6 hours. Post your breakfast at Patna you head towards Rajgir and visit Nalanda on your way. Nalanda is a classic hub for Buddhism and also being established in 5th century it is the oldest university that the world has. Close by you will find famous temples and monasteries depicting stunning Hindu and Buddhist images. Another popular site is Institute for research in Buddhism and Pali literature that till date has preserved some of the rare manuscripts that might interest the history buffs. Post Nalanda you move to Rajgir, which was the capital city back in history of the famous Magadh kingdom that was ruled by King Bimbisara. Here you can explore the Vishwa Shanti Stupa which is an elite and elegant marble construction carrying impressive golden Buddha images and was constructed by esteemed NipponzaMyohoji sect of Japan.

Further in the tour you are taken to Griddhakuta that is an unusual rock projection that has resemblance to the beak of a vulture, which probably gives it its name. Inside these rocky caves Gautama Buddha spent several rainy seasons preaching as well as meditating. Take a pause at the Venuvana Vihara, a sacred monastery site that got constructed by king Bimbisara for Gautama Buddha to stay, as a very first offering to Gautama Buddha. There is also the Jivakameavan Gardens, known as the royal dispensary of eminent physicians'. Here Buddha was attended and healed by Jivaka, a popular physician who belonged to the times when Bimbisara and Ajatshatru used to rule. When you finally arrive at Bodh Gaya you stay overnight in your hotel.



expand_more Day 07: You get to explore Bodh Gaya

You start your sightseeing in Bodh Gaya post your breakfast. Here Gautama Buddha got enlightened under a pious Bodhi Tree. On your exploration spree stop by at Mahabodhi Temple constructed by Asoka back in 3rd century B.C. The other prominent site is Sujata House. This happens to be a temple built serenading a tribal woman from Uruvela who had the kindness to provide food to Gautam Buddha when he was starving. There is a shrine and purlieu close by that gives this place its spiritual aura. Visit the Niranjana River and return to the hotel at Bodh Gaya for overnight stay.



expand_more Day 08: You leave Bodh Gaya and move to Varanasi

After completing a journey of 6 hours covering 250 kms, you reach Varanasi from Bodh Gaya and check in your hotel. In the late afternoon side you can take a stroll around and explore the nearby markets, be a part of the evening traditional worships and also enjoy a boat ride in the sacred Ganges. For this day you stay in the hotel overnight.



expand_more Day 09: You depart from Varanasi and make your way to Delhi

In the morning you start the day with a relaxed boat ride at the holy Ganges and experience the magical Sunrise moment. You also get the chance to explore the cremation Ghats and also be a part of the ritualistic practices taking place here. Post this you can stop over at the famous Bharat Mata Temple and the popular Banaras Hindu University. Here Gautama Buddha has taught his very first lesson soon after his enlightenment ay the 530 B.C. Towards the afternoon you make your way to the airport to take your flight for Delhi, where you arrive and go to airport to leave for your onward destination.